We can provide you with 2D/3D drawings of our products, they will be sent by e-mail. As this is a manual process, please be aware of a slight delay.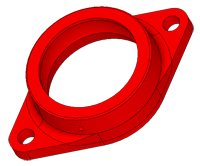 Request material by using this e-mail form:
By clicking send, you accept that no liability can be accepted by any loss or damage whether direct, indirect, or consequential arising out of the use of the drawing. Please note that dimensions that are not specified in the product table should not be measured or interpolated on the drawing as a basis for the dimensioning of adjacent components.